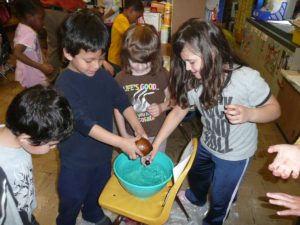 This free program runs September – May.
•  Saturdays 10:30 am – 12:30 pm
•  Sundays 1:30 – 3:30 pm
•  Mondays of school holidays for Columbus Day, Martin Luther King Day, Presidents' Day, 10:30 am – 12:30 pm
Docents help children and others learn through interactive displays and games in the showrooms.
New topics every month.
Drop in anytime.
It's FREE!
2018-2019 Exploration Station Schedule
September: Hide and Seek
Some animals are so good at blending into the landscape that we often cannot see them even though we are looking right at them.  How and why do they hide and can we seek them out?
October: Leaf Study
Why are leaves shape the way they are, why are some round and other full of prickles?  Why are some green others yellow?  We will look at leaves and see how environment affect their shapes and colors.
November: Insect Study
Insects make up the largest class of animals on the planets out numbering all others.  They are found in all regions of the world.  It is estimate that there are over 800,000 species and more that have not been identified.  We may never get to study all of them but let's take a look at some and see how big of an impact such small critters can make.
December: Botanical Oils
Oil extracts made from various plant parts have been used as food, in medicine.  From cosmetic to industrial, plant  extracts have made enormous contribution in everyday life, beneficial  or otherwise.  Let's take a look at some of the plants and their OILy contributions to the world.
January: Plant Band
Ring in the New Year by making lots of noises while playing with plants.  From simple bam.boo flutes to didgeridoos, see how people from all over the world have been making musical instruments from what's in their back yard and see what instruments you can make yourself.
February: Habitat – Mediterranean Biome
There are only 5 regions of Mediterranean forest, woodlands and scrubs in the world.  While these climate regions are small they contained 10% of all plant life on the planet.  We'll see how climate play such an important role in plant diversity.
March: Eggs, Eggs, Eggs.
Be it in a nest or underwater, eggs are the first  step to life for all of our conservatory animals.  Let's learn about these wonderful eggs and see if the eggs do indeed come before the parrot.
April:  Magic of Seeds
There are many different kinds of plants in the world.  While these plants varied from size to shapes and from the climate they like to grow, they all start life as a seed.  A seed is a portable life cycle just waiting for the right conditions to grow. We'll learn how co much life is contained in such a small seed.
May: Biomimicry
Human have been using plants and animals since the beginning of time.  Plants and animals in nature sustain us as food, medicine and shelters. It is our source of inspiration for arts and culture.  As our understanding of nature deepens,  scientists are increasingly looking toward nature to inspire innovations that will help with the changing world.  We'll look at some very human inventions that are decidedly nature inspired.